Help support small businesses run by Grout Families that have been impacted by COVID-19!
FIT4MOM SE Portland/Happy Valley is owned by a Grout family that has a 1st Grader with Mrs. Mulvihill and a Kinder starting in the Fall. FIT4MOM is a community of moms who support every stage of motherhood. From pregnancy through postpartum and beyond, our fitness and wellness programs help make mom strong in body, mind, and spirit. ALL of our classes are currently VIRTUAL! We have 11 Live classes per week, play groups, and a weekly Mom's Night In social hour. You'll get a great workout and connection with other moms – kids WELCOME during all workouts!
---
Run by a 5th grader's family in Mr. Fischer's class, they are now offering retail store up online with wellness and self-care products people can use at home. They are offering no-contact pick-up and free local delivery and any purchases directly support this family and their small business, as well as the other small businesses they source their products from. There are a lot of products that they use at home for their kids, like aromatherapy and heat packs, that can help families and kiddos who are feeling stressed and anxious right now. They are also happy to offer advice or one-on-one instruction on using anything, too!
Well Being Massage has generously offered the Grout PTA a 10% kick-back on all products and/or gift cards sold similar to a dine-out. We are humbled and grateful. However, please know this is not a stipulation to request your business be posted and promoted. 
---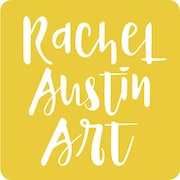 Check out Grout Parent > Rachel Austin on Etsy where you'll find a large selection of my original art including map art, custom map gifts and original paintings.
I'm a full time painter living in Portland, Oregon. I love maps, cheerful colors and capturing the quiet beauty found in nature. All of my prints and cards are made from images of my original paintings and printed and packed with love and care in my studio.
website: rachelannaustin.com / instagram: rachelaustinart
---
Rain Brain Trivia (Virtual Kid Trivia every Friday on FB from 3-4 pm) for free (tips happily accepted, but not required).
---
Would you like to add your business to this page? Send your information to groutpta@gmail.com and what class your kids are in and we will gladly add you!
---